Go Big Orange! The last few weeks I've offered up tailgate tips and recipes for several colleges with fan bases in Chattanooga. Now it's time to feed the Vol Nation with a great recipe served up just for fans of the Big Orange!
POWER T: Every Friday and Saturday you'll notice an abundance of Power T logoed orange shirts, ball caps and car flags proudly displayed. Even though the last few seasons have not been what the fans have grown accustom to in years past there does seem to be a light at the end of the tunnel. Suddenly Vol fans have a coach that seems to understand Volunteer pride. Even my War Eagle wife Ally tolerates me wearing Volunteer shirts when we are not watching Auburn play. In fact, she wore a UT jersey for Coach Dooley's first game for her husband, a fact she will deny if asked.
Hopefully the last remnants of the Lame Train have pulled away from the station.
As for tailgating on Rocky Top, there is nothing else like it in football. Tennessee has the normal tailgating found at colleges across the country. Tailgaters include fans with everything from picnic lunches and small grills to massive barbecues and smokers on huge tow behind trailers. There are fans, alumni, sponsors, businesses, boosters, private parties, concerts and more including too many traditions to list here. And, the Volunteer fans also have their own Navy.
VOL NAVY: Yep, the Volunteer Navy anchors every home game on the banks of the Tennessee River only a few yards away from Neyland Stadium.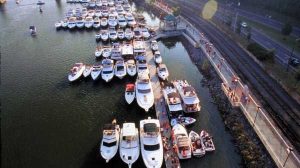 According to the UT Athletic department the Vol Navy started in 1962 when former UT broadcaster George Mooney found a quicker and more exciting way to get to Neyland Stadium other than fighting Knoxville traffic. Mooney navigated his little runabout down the Tennessee River to the stadium and spawned what would later become the "Vol Navy."
Today, approximately 200 boats of all shapes and sizes make up this giant floating tailgate party on the river, and boats begin arriving days in advance of home games.
So, in honor of Volunteer fans, and the Vol Navy, this week's recipes hopefully will make Smokey proud. If you've ever fished on the Tennessee River you know that some of the biggest Largemouth Bass can be caught! And, there's Catfish! Legendary Tennessee River Catfish – known for growing the size of a VW Bug while being packed with mouthwatering flavor!
Also, these recipes work great on other seafood filets as well as pork and chicken. Please note that grilling times will vary depending on your grill and thickness of your fillets.
Big Orange Grilled Catfish with Adobo Sauce & Coleslaw
1 pound catfish fillets (or fish of your choice)
1/2 cup sour cream
1 teaspoon chopped chipotle Chile in adobo sauce
1 (1 2-oz.) package coleslaw mix
2 teaspoons grated lime zest
1 tablespoon fresh lime juice
1 teaspoon garlic pepper
1/2 teaspoon ground cumin
Orange juice
Directions: Try using a grill basket coat with nonstick cooking spray. Preheat grill to medium high heat.
For the Chipotle sauce; in a small bowl combine sour cream and chipotle; cover and refrigerate. For the slaw, in a large bowl combine coleslaw mix, lime zest and lime juice; toss. Set aside. Baste fillets with orange juice. Place fillets in grill basket, or on a large sheet of heavy-duty foil. Sprinkle fillets evenly with garlic pepper and cumin. Grill 4 to 5 minutes per side or until fish flakes easily with a fork. Remove fillets from grill. Place slaw on 4 plates. Top each with 1 fillet, drizzle with chipotle sauce, and serve.
Easy Mustard Sauce Grilled Catfish
Catfish filets (or fish of your choice)
Mustard BBQ sauce or
Honey mustard BBQ sauce
Salt and pepper
Oil or non stick spray
Directions: Preheat grill and oil cooking grate. Next, season the catfish with salt and pepper the lightly baste with your sauce. Place the fillets on the heated oiled grill grate and allow to cook for about five minutes. Use a fish basket or non-stick foil if needed. Turn and brush heavily with sauce. Continue grilling until the catfish flakes easily. Remove from grill and turn before putting the filet on the plate. Brush the other side with more sauce while hot and serve.
– Originally appeared in Chattanoogan.com